About
us
VCU HIV Services coordinates clinical, research, educational and support activities at Virginia Commonwealth University, within the greater Richmond area and throughout Virginia.
Who we are
Established in 1986, VCU HIV Services is the largest and broadest of its kind in Virginia. Our mission is to improve the health and social condition of persons living with HIV and to prevent the spread of the disease.
We combine excellence in HIV clinical care with globally relevant clinical, translational and prevention research. Our team works on multidisciplinary HIV-related education activities and public policy throughout Virginia.
VCU HIV Services has grown over the years with support from the Health Resources and Services Administration, the Virginia General Assembly and the Virginia Department of Health.
How we can help
Through partnerships with local and national HIV/AIDS service organizations, health care professionals, educators and researchers, we offer services to both patients and providers.
For patients
Clinical care
Social support services
Peer advocacy programs
For providers
Educational materials
Multidisciplinary clinical training
Consultation services
From the director
"Our staff is dedicated to preventing the spread of HIV and improving the health and social condition of HIV patients through collaborative research, education and clinical care."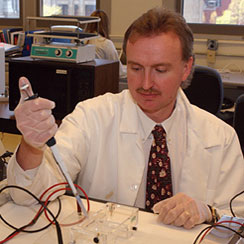 Daniel Nixon, D.O., Ph.D.
Director, VCU HIV/AIDS Center
Give
To support the VCU HIV/AIDS Center, visit the MCV Foundation. Select "other" in the "Gift information" section and type "VCU HIV/AIDS Center" in the box.