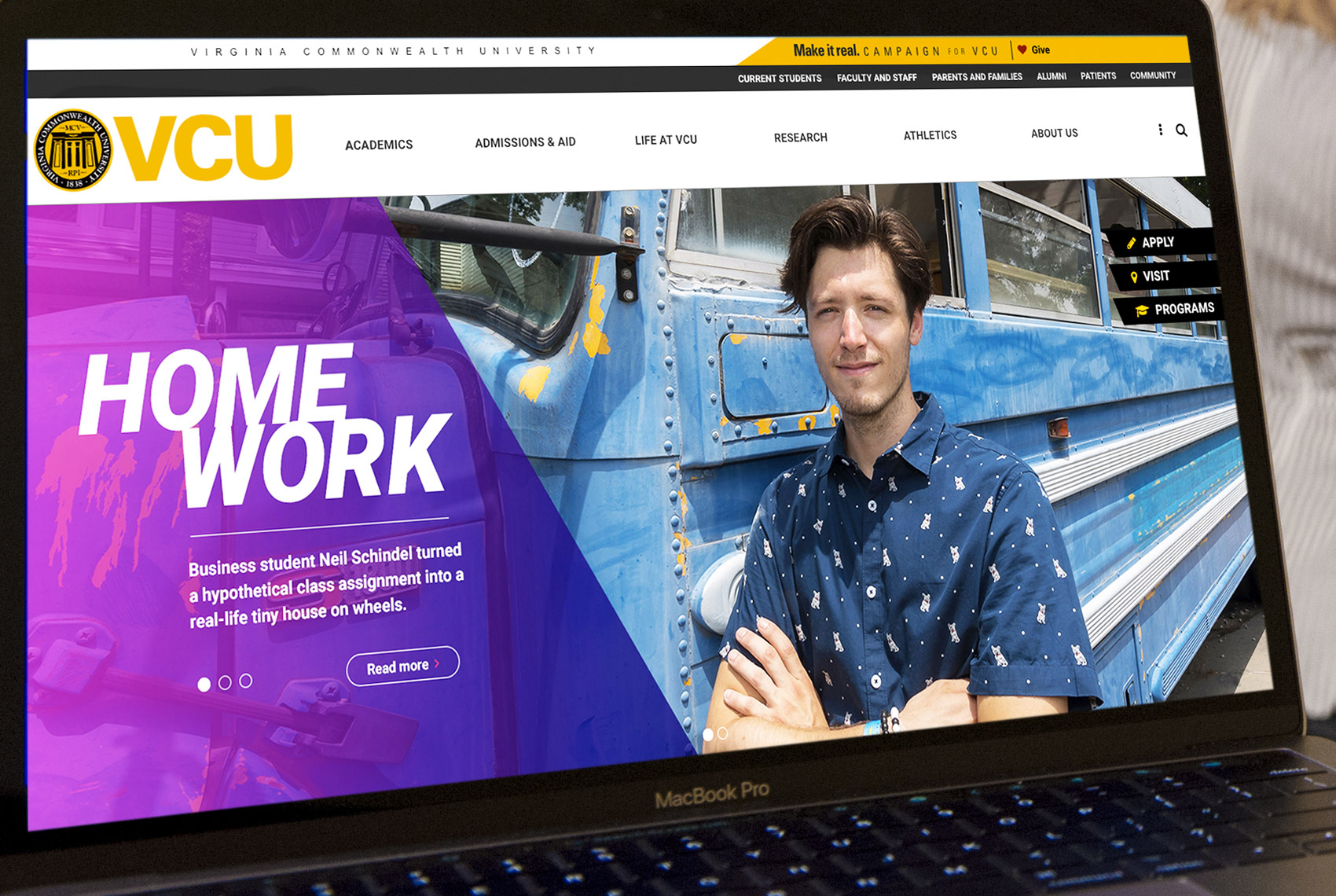 beta version of VCU's new home page launches today, and we are excited to share it with you. As you explore it, we welcome your feedback and insights into what's working and what's not. The site is best viewed in Chrome, but we are working to make it beautiful across all browsers, platforms and devices.
We hope you'll explore the site on your own. When you do, here are nine things to keep in mind:
1) Prospective students and their families are the primary target audience
The new site is designed with prospective students in mind. We want to show them how great VCU is and what sets us apart – while also giving them the information they need to decide whether to apply. That said, we know that current students, faculty, staff, alumni and members of the Richmond community also use our site, so we've tried to make sure they can also get to the information, quick links and feature stories they want.
2) The navigation is streamlined
The old VCU home page has roughly 100 links in its navigation. That's way too many for our visitors to dig through. Some links were irrelevant to our target audience (prospective students) and may actually confuse or overwhelm them. So we've cut the number almost in half.
3) Everyday tools for current students, faculty and staff are in the utility nav
Where's the email link? How about Blackboard and myVCU? The tools that students, faculty and staff often come to the home page for are listed in the "utility nav" that you see when you hover over the three dots on the right side of the main navigation.
4) Admissions content has a new home
VCU's three admissions websites — undergraduate, graduate and international — have been combined into one large section of the home page. This provides a one-stop shop for admissions information and eliminates redundant or (occasionally) conflicting content. If a prospective student starts on VCU's home page then moves on to admissions (or vice versa), they will stay on the same site instead of being bounced to one with a different look and feel.
5) It's easier to find academic program information
One of the first questions a prospective student asks when considering a college is, "Does this school offer the programs I want?" Our expanded academics section makes that answer easier to find with a new program explorer. Users can choose filters to narrow their search as they sift through VCU's 200-plus program offerings. The section also includes subpages dedicated to VCU's colleges and schools, undergraduate studies and graduate and professional studies.
6) There's more student life content
"Will VCU be a good fit for me?" This is another top question for prospective students, and our new "Life at VCU" section gives students a glimpse of the people, setting and overall vibe at VCU as well as practical information on housing and dining, transportation, campus safety, the city of Richmond and more.
7) School spirit is front and center
What makes Rams so proud of their university? We've attempted to answer that question throughout the site by showcasing proud moments, highlighting what students and faculty say about VCU, and featuring favorite campus spots. We've even added Athletics back into the main nav so that prospective students and their parents can get an early start on catching that Ram fever.
8) VCU's return on your investment is plain to see
We also know that as students and parents are shopping for colleges, they want to know what the potential return is on their investment. We've created a new "After VCU" page to showcase our famous alumni and the achievements grads are making just one year out of VCU.
9) VCU has a giving heart
As many of you know, VCU is in the midst of its largest fundraising campaign ever. We call it the Make it Real Campaign for VCU. And on this site, we want our prospective students and parents to know that Ram Nation cares about the people, innovations and environments at VCU. You'll find examples of how gifts have changed and improved the lives of VCU students, faculty and staff.
Visit beta.vcu.edu.