Support the Scott House
Featured in the Virginia Landmarks Register, the Scott House is one of Richmond's most important remaining examples of American Renaissance architecture. The total expected cost of restoration, design and furnishing the main level of the house is estimated at approximately $500,000.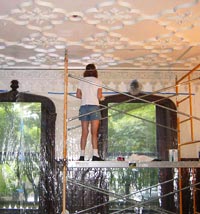 Virginia Commonwealth University commenced its restoration project in 2001 with a complete overhaul of the building's fire safety, heating and cooling, and electrical capabilities.
VCU envisions creating sophisticated, yet functional, rooms that reflect the grandeur of the American Renaissance. To realize that vision, VCU contracted with Gary Inman (M.A. '93) to develop a design based on the architecture of the building, as well as surviving documents that record the original appearance of the dwelling. With an eye for authenticity, Inman carefully considered the stylistic guidelines of the early-20th century in creating his master plan.
The first phase of the plan was possible from internal budget allocations and fundraising efforts. Inman began by restoring and refinishing the home's intricate millwork and floors, painting the elaborate plasterwork throughout the first floor and staircase, and acquiring several important pieces of reproduction period furniture.
The VCU Foundation established the Frederic and Elisabeth Scott House Trust endowment for preservation of the mansion.
Vist the Advancement Web site to read more about the university's commitment toward restoring and preserving the Scott House.